The Place to Be
All curious souls are welcome to explore the mysticism, mindfulness and philosophy of Judaism, no matter religion or religious.
Shabbat Services
March 24th, (Fri) at 7PM
March 25th, (Sat) 10AM 
Services will be in person and over zoom this weekend. Saturday Shacharit at 10AM followed by study at 11AM and kiddush lunch at noon.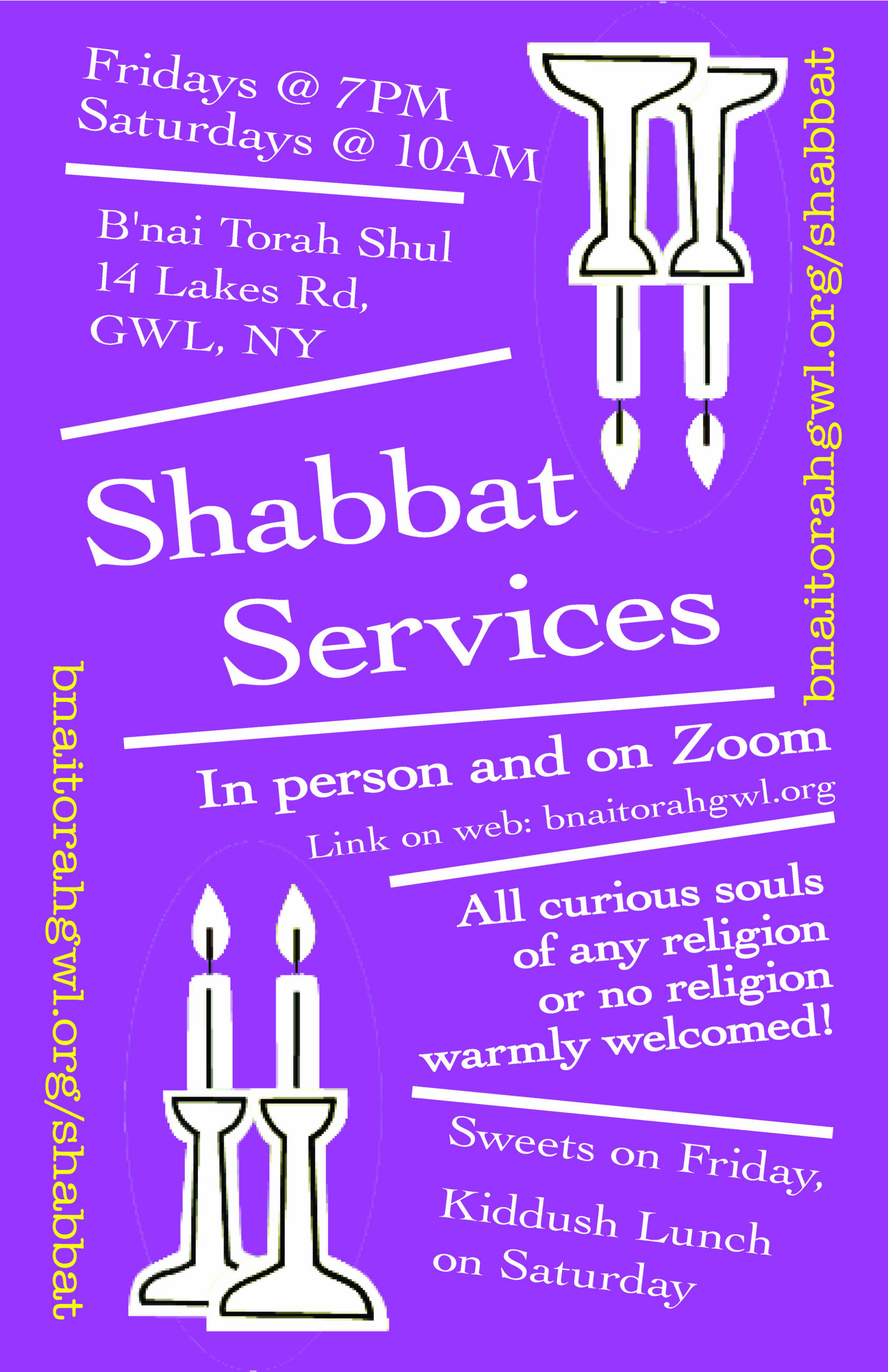 2nd Night Passover Seder
April 6th, (Thur) 6:45PM @B'nai Torah Shul
Cut loose from the shackles of life, join us for a spiritually renewed journey to the promised land within!

We will be having a delicious catered dinner and an inspiring and enlightening seder, with music, acting, and more.

All religions and spiritualities are welcome!

Tickets:
$45 Adults
$18 Children
$180 Sponsors

Financial assistance is available to those who need it.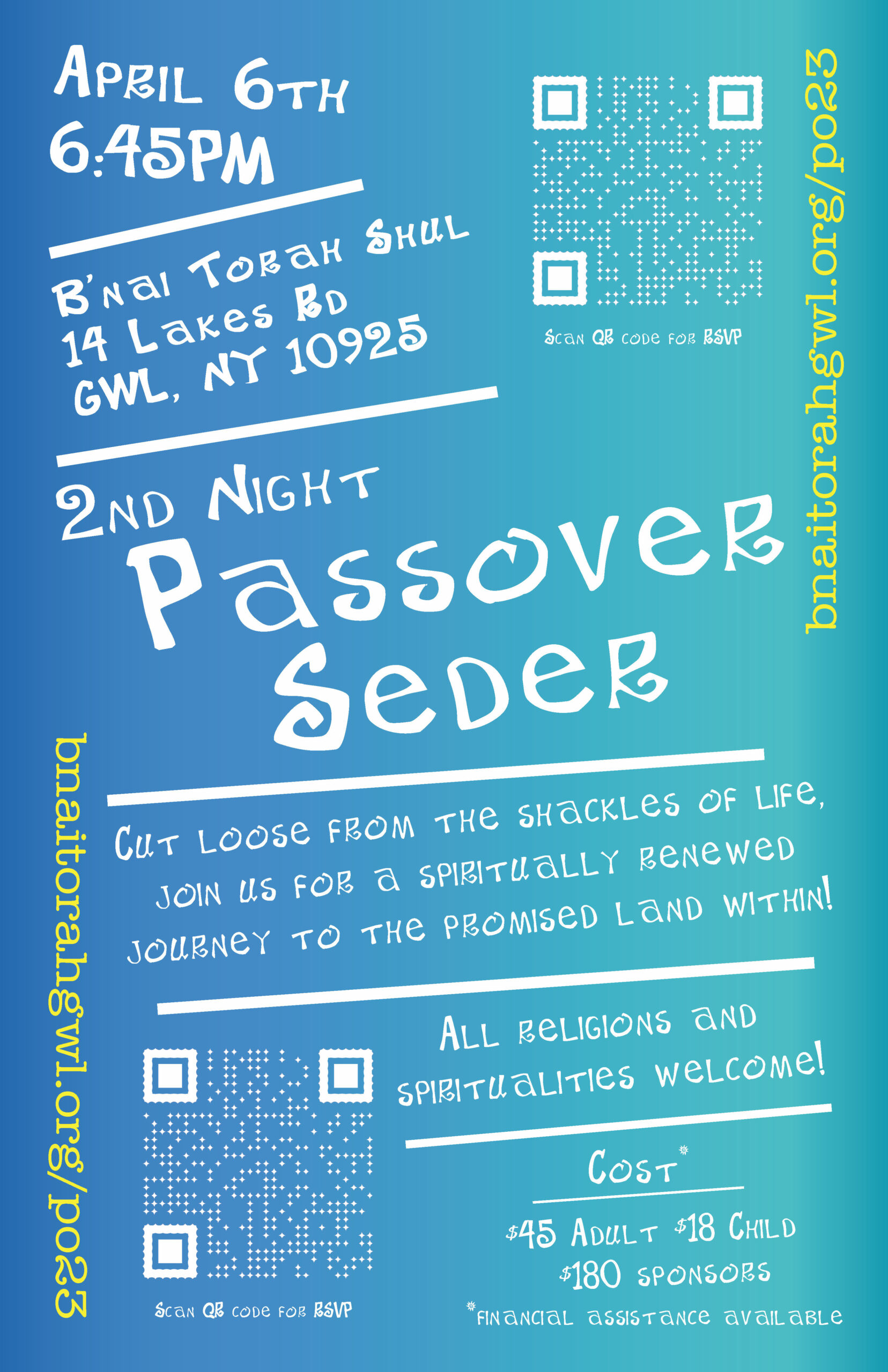 Monthly Shabbat Potluck — Passover Edition
April 7th (Fri) — 6:30PM Dinner; 7:40PM Services
Our monthly Shabbat Potluck is coming up! Come share a meal with the community. This month we will be celebrating along with hundreds of other shuls as NJOP runs their Shabbat Across America.
Bring a Kosher for Passover Dairy dish to share, and a belly ready to eat, laugh, and rejoice in good company.
Feel free to come just for the meal, or stay for services afterwards.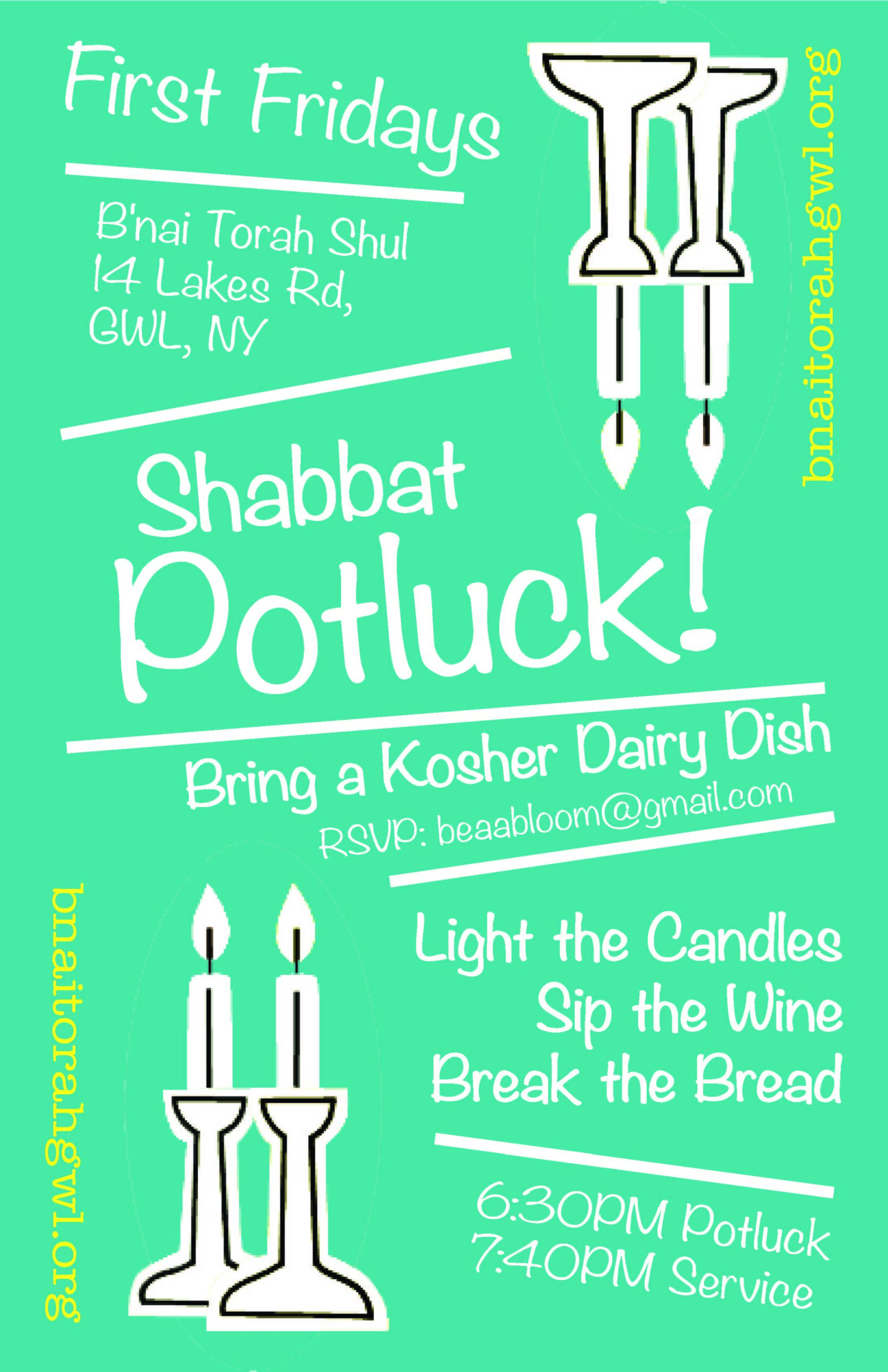 Learn Hebrew (for Adults)
April 12th – May 31st
Wednesdays from 6-7PM
Ever wanted to learn how to read Hebrew? How to follow along in a Siddur, or read the text of the Bible in its original language? Come Learn with us!


Cost:
Members: $60 for 8 class series; $10 for single class drop in
Non-members: $90 for 8 class series; $15 for single class drop in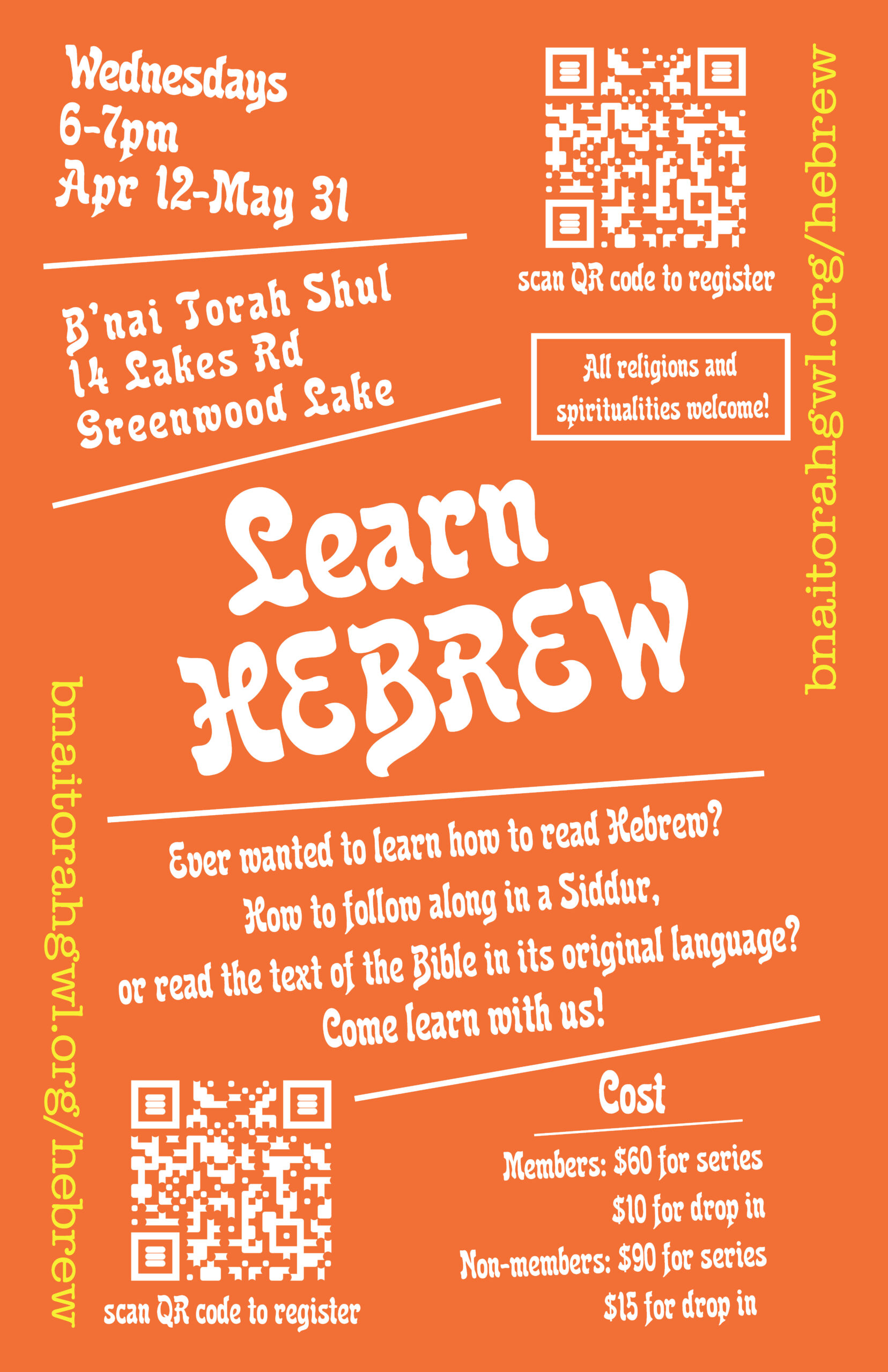 Yom Hashoah Peace Reflection
April 17th (Mon) — 6PM 
Each year on Yom Hashoah we mourn and commemorate the millions of lives lost during the Holocaust, while keeping a watchful reflection on how to encourage peace in the future.
We will be commemorating the evening with music, stories, prayers, and light refreshments. Please join us!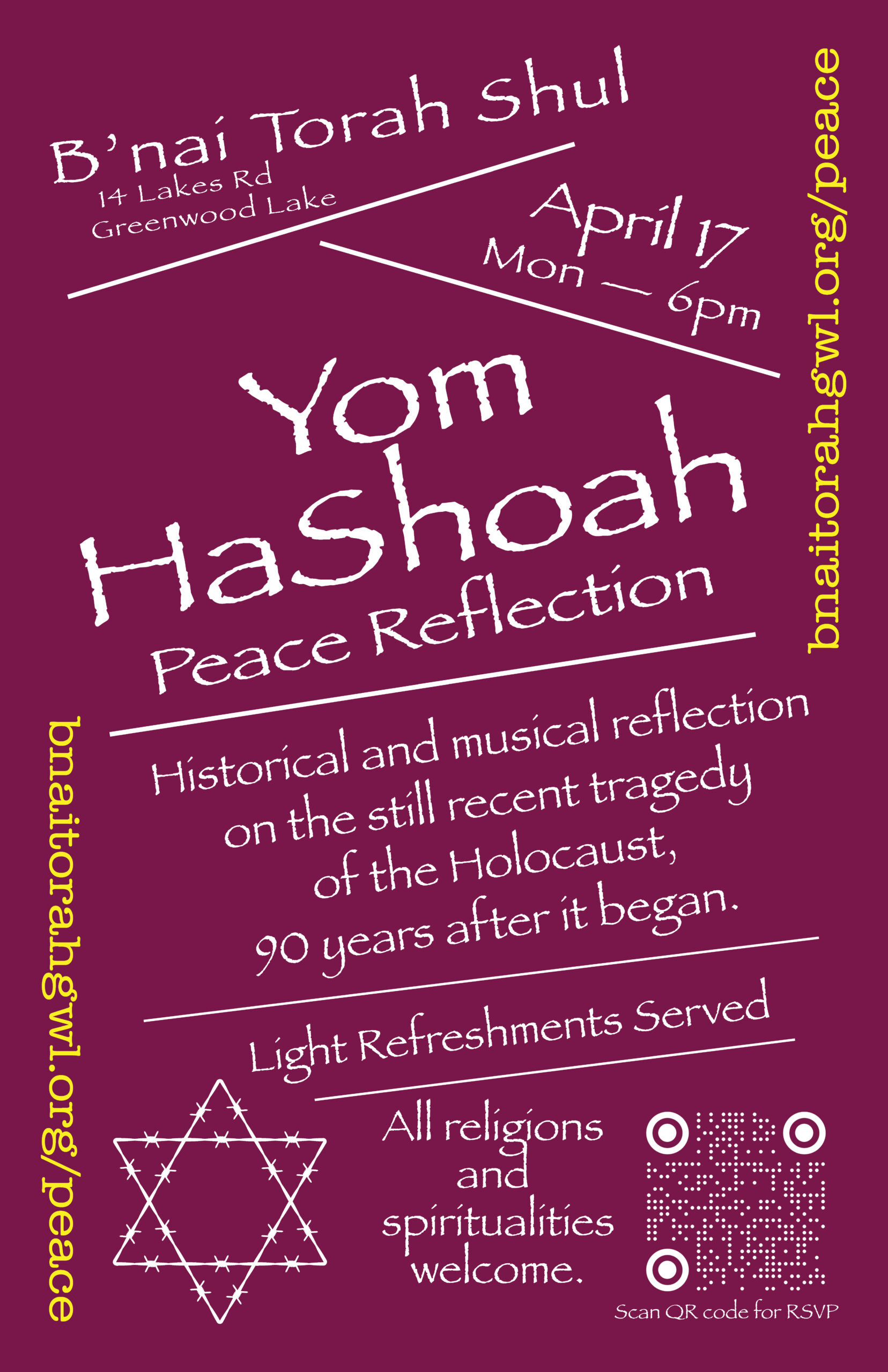 Our Lake Day
April 23rd (Sun) — 9AM – 2PM
Celebrate Our Lake with us! Each lake day we will be cleaning up different sections of our lake and taking joy in the beautiful nature that surrounds us.
We will begin by cleaning the wetlands on and next to our shul. Come volunteer and helps us grow a little community of cleaning volunteers!
Grill Cookout and Family Fun Activities for all participants.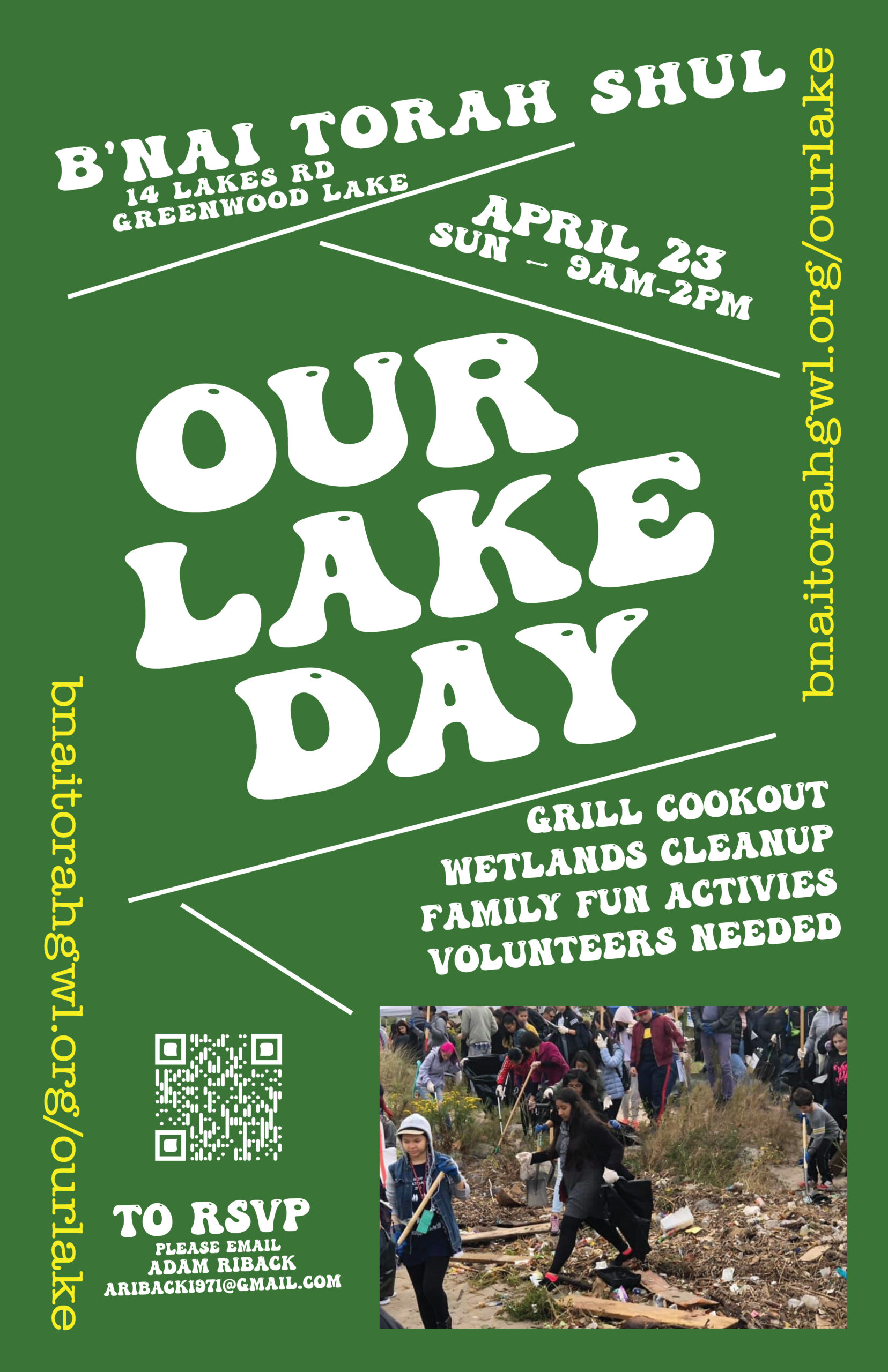 Movie Night — Me and the Colonel
April 30th (Sun) — 5:30PM
Eitz Chaim and B'nai Torah Shul are coming together for a movie night! We will be watching Me and the Colonel with Danny Kaye.
Only $5 for popcorn, a drink, and a movie.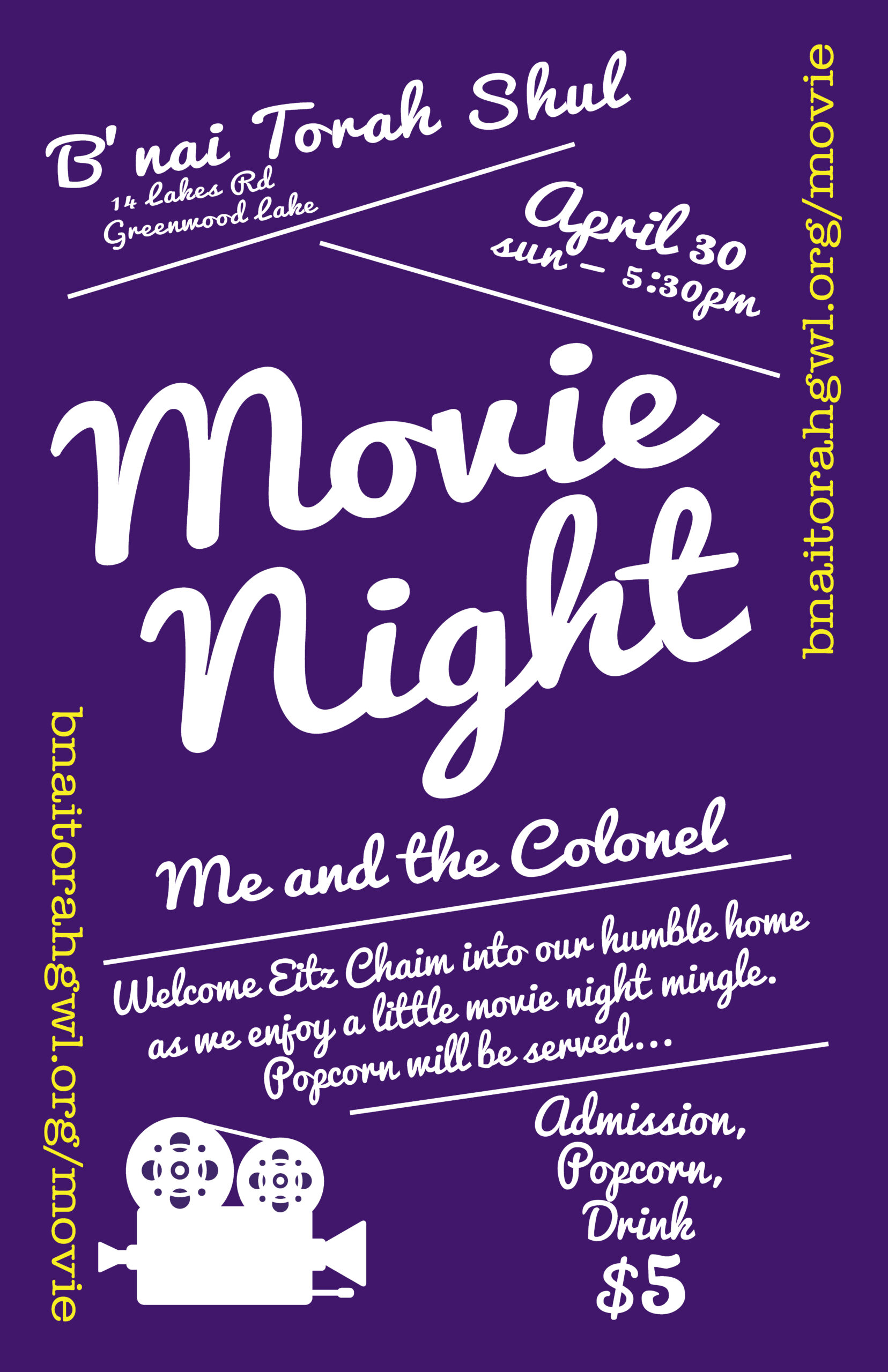 We are open for in person gatherings!
Masks are optional but encouraged for those at risk.